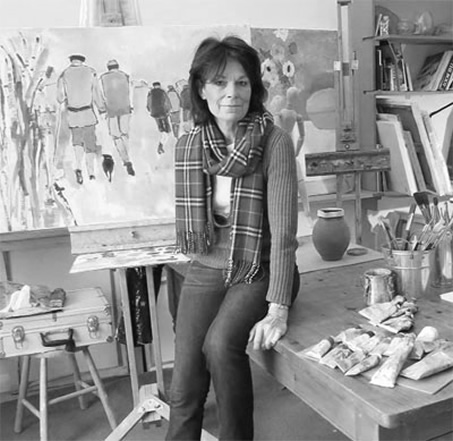 Although from a family of artists, Bridget started her career in publishing which led to an increasing involvement with the art world which in turn fuelled her passion for painting. She studied 20th-century art under Robin Child, turning to painting as a full-time career several years ago. Her subjects include still lives, flower paintings and figurative scenes which are characterised by a strong sense of narrative. Her love of Scotland and the shooting season have inspired the shooting scenes for which she has become well known.
Bridget's paintings are carefully composed, her skill lies in reducing a complicated composition into simplified blocks of colour carefully balanced within the picture plane. Her energy and vibrancy of line overlay the complex structure and layering of the paint and unify the composition. The palette is carefully controlled, the muted tones enlivened by surprising blocks of vibrant colour.
Her paintings are immediate, she has a gift of extracting the essential point of a scene or composition and conveying it with clarity and charm. Her world is familiar we feel we have inhabited these scenes which take us to remembered people and places.
Bridget paints with passion tempered with an analytical eye for the essentials of colour, pattern and composition. She has gained well deserved recognition, with established galleries in both London and the Home Counties showing her work for Solo Shows and Mixed Exhibitions.
Bridget's work can be seen in exhibitions in London, Gloucestershire, Yorkshire, Sussex, Hampshire and Dorset.
Cricket Fine Art – London
Mixed Exhibitions 2018/2019/2020/2021/2022/2023
Solo Show November 2019
Solo Show November 2021
Solo Show October 2024
Fosse Gallery – Gloucestershire
Solo Show 10th to 30th June 2018
Mixed Exhibitions 2018/2019/2020/2021/2022/2023
Jerram Gallery – Dorset
Mixed Exhibitions 2018/2019/2020/2021/2022/2023